LeBron James became the NBA's all-time scoring leader on Tuesday, passing Kareem Abdul-Jabbar's hallowed record that many thought would never be broken.
The monumental accomplishment has kicked up discussions over who is the best basketball player of all time. Is 38-year-old James the GOAT (aka greatest of all time)? Or is it Abdul-Jabbar — or Michael Jordan?
That question might never be settled. But it's clear at this point who the greatest earner of all time is.
To be clear, both James and Jordan are incredible business men. They are the only two NBA players in history with a net worth of more than $1 billion.
But Jordan has earned the most at this point: He has a net worth of $1.7 billion, while James has a net worth of about $1 billion, according to Forbes estimates.
See also: Tom Brady has made $512 million as an NFL player — and has that $375 million contract with Fox Sports in his back pocket
James's net worth starts with the money he's made from his NBA contracts with the Cleveland Cavaliers, Miami Heat and Los Angeles Lakers over his 20-year professional basketball career. His $431 million in earnings is by far the most of any player in NBA history, well ahead of the next biggest earners, Chris Paul, Kevin Durant and his current Laker teammate, Russell Westbrook.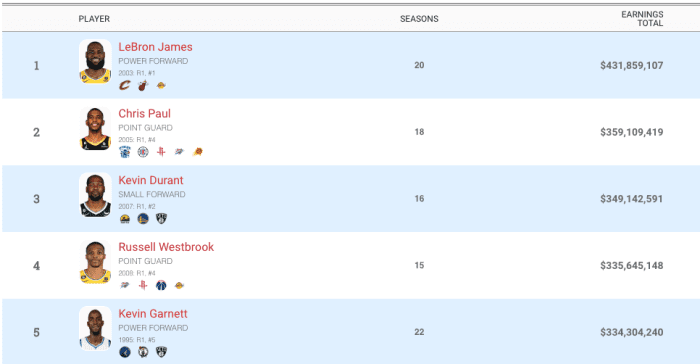 How much did Jordan make from his NBA contracts?
He made $93 million from the Chicago Bulls and Washington Wizards during his time in the league, and was only the highest paid player in the league during two of his 16 seasons.
Spending on NBA players' salaries, aka the NBA salary cap, was much lower when Jordan played than it is today. And because of that, many of the NBA's highest earners of all time are current players.
So James has a clear edge over Jordan when it comes to on-court earnings. But both of these legends actually made most of their money off the court.
James's off-court earnings come mainly from sponsorships and investments.
As a teenager, James famously chose a shoe contract with Nike over Reebok in 2003 when he was entering the NBA. Shoe executives at the time were desperate to sign the already-famous 17-year-old as celebrities routinely attended James's Catholic high school games and he was on the cover of Sports Illustrated. Nike was offering him $87 million, but Reebok offered him a much higher $115 million.
James eventually left millions on the table and chose the swoosh. It looks like that ended up being a good decision for James as one of his subsequent Nike contract extensions (while the exact terms are not fully known) is reportedly a lifetime deal that could exceed $1 billion. Meanwhile, Reebok doesn't currently sponsor any NBA players as of 2023.
James's other sponsorships over his career include Coca-Cola
KO,
-0.58%,
McDonald's
MCD,
-1.69%,
AT&T
T,
-0.47%,
Kia
000270,
+0.28%
and Crypto.com.
James was also an early investor in headphone company "Beats by Dre," which was later purchased by Apple
AAPL,
-1.77%
 for $3 billion, netting James an estimated $50 million from the sale, ESPN's Brian Windhorst reported in his biography LeBron, Inc.: The Making of a Billion-Dollar Athlete. He also has equity stakes in the fast food chain Blaze Pizza, Lobos 1707 tequila, and Fenway Sports Group (FSG), which owns English Premier League soccer team Liverpool F.C. and the Boston Red Sox.
Along with his business partner Maverick Carter, James acquired 2% equity in Liverpool F.C. in 2011, which he later converted to equity in FSG, which has a value of roughly $90 million as of 2022.
He also started an entertainment development and production company in 2020 called Springhill Company.
See also: How Kobe Bryant made his $600 million fortune — and who is in charge of it now
And what about Jordan?
As previously mentioned, Jordan's on-court NBA earnings topped out at $93 million, so his off-court earnings make up the majority of his total net worth.
And Jordan's wealth comes primarily from his Nike
NKE,
-1.93%
Jordan Brand deal. Jordan first signed with Nike back in 1984 and quickly became an icon in the sneaker industry — he makes a reported 5% from Jordan Brand's sales, which netted him $256.1 million last year, according to Front Office Sports.
Jordan's other business ventures include his role as a special advisor to the board for DraftKings Inc.
DKNG,
+0.80%,
ownership of a NASCAR team, as well as endorsement deals throughout his career with brands such as the PepsiCo-owned
PEP,
-0.23%
Gatorade and Hanes.
He is also the majority owner of the NBA's Charlotte Hornets franchise — making him the only former player, and the only African-American, who is the majority stakeholder of an NBA team.
As for Abdul-Jabarr's net worth, he made $8.5 million during the later part of his NBA career — 1984-1989 — but total salary data from his first 16 seasons was not publicly tracked. Abdul-Jabarr's off-court work included a role in the 1980 movie "Airplane!" and endorsement deals with Converse and NBA2K. While Abdul-Jabarr's exact net worth is not known, it's likely far lower than that if both James and Jordan.
Jordan and James never faced each other on the basketball court, as Jordan played in his last NBA game in April 2003 and James made his NBA debut a few months later in October 2003.
The two basketball titans may actually have an opportunity to go head-to-head with one another as NBA team owners. James has expressed his desire to own an NBA team in the future, setting up a potential matchup with Jordan's Hornets.
If James were to buy an NBA team, which he certainly has the money to do, it could start a new debate: who is the better team owner?
Read on: 5 weird Super Bowl prop bets, including the 'color of Gatorade poured on winning head coach' and 'coin toss outcome'