On 4 April, when his city was blockaded on all sides, 16-year-old David boarded a bus from Mariupol to Russia. When asked, he said he told the Russian soldiers exactly what he thought they wanted to hear, "I nodded my head and said 'Yes, yes, I want to go to Russia'," said David. "There was no option of going to Ukraine. I thought I'd get [to Russia] and get out quickly via Belarus."
But when David arrived at the bus's destination, a city in western Russia, the local authorities sent him to a children's home because he was under 18. They told him he would have to stay there until he came of age and took away his passport.
David spent eight months living in a Russian children's home and was only able to get out thanks to a huge effort by his former youth club leaders, who had evacuated to Kyiv on the second day of the war, and a secret network of Russian volunteers, who have been operating in the shadows to help deported Ukrainians leave Russia.
David, who did not wish to give his last name, is one of thousands of Ukrainian children believed to have been deported and sent unaccompanied to Russia. Unlike David, most of the children are believed to have been moved from Ukrainian orphanages and their destinations are not known.
According to Russia's own publicly available data, at least 400 children taken from Ukraine have been adopted by Russian families. Ukraine says Russia's actions constitute genocide as it is forcibly transferring children from one national group to another.
David is a musically gifted teenager with a four-octave range. He said this fact passed his own mother by, but others recognised his musical promise. He became the only choir boy paid to sing in the Mariupol church.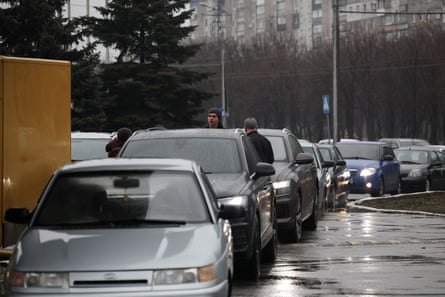 Before the invasion, David had moved out of his mother's flat in Mariupol and was living on the sofas of various friends. For his whole life, his mother drank heavily, said David. He recalled prioritising buying alcohol over other things.
Two days before the invasion, David – with his friends from a large Mariupol LGBTQ youth group – went out on a pro-Ukrainian demonstration. David said he sang the national anthem to the crowd but not well, though "that doesn't matter, what matters is that I sang it." Three days into the invasion, he sung the national anthem again in the city's central square, when the Russians were already on the left (east) bank of the Kal'mius river in the city.
"After 1 March, there was no electricity and no internet and I understood that it was over," said David, referring to the city. "The city was already divided. The people on the left bank had days, if not hours, to get out. I lived on the right bank."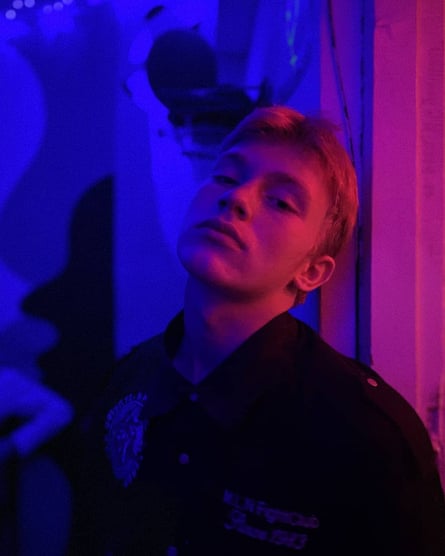 David had been staying with his grandmother the night before the invasion. He stayed with her until 8 March – Women's Day in Ukraine – when he decided to try to visit his mother as she would be waiting for him. Bombs were falling everywhere, said David. He said they were blockaded in and that he looted like everyone else in the neighbourhood in order to survive.
When David arrived at his mother's, she was very happy to see him but she had started living with a man who David described as a "complete pro-Russian schmuck." There were two radio stations available, said David, one pro-Russian and the other Ukrainian. The pro-Russian station was on whenever the man was up.
"I couldn't get to sleep," said David. "I couldn't contain my aggression. I demanded to know why we had to listen to it. Fucking [Vladimir] Solovyov," he said, referring to the most prominent Russian propagandist. David described how the propaganda changed over a matter of days. At first, all Ukrainians were fine, he said, then they all became Nazis, and they all need to be killed.
His mother said they were listening to Russian radio because they were "telling the truth." She then started accusing David of being 'a Ukrainian', meanwhile identifying herself as a Russian. He went back to his grandmother, who he had a previous understanding with regarding Russian propaganda. Along the streets and in the courtyards, he said he saw bodies at different stages of decomposition.
"But she was just so tired," said David of how he found his grandmother when he reached her flat. She died two weeks after he left Mariupol.
Russian soldiers then entered his area. They stopped him as he was walking down a street singing. They forced him to strip down to his underwear and stand against a fence. "They were asking me 'Have you seen any dills?'," slang for Ukrainians or, in this case, Ukrainian soldiers.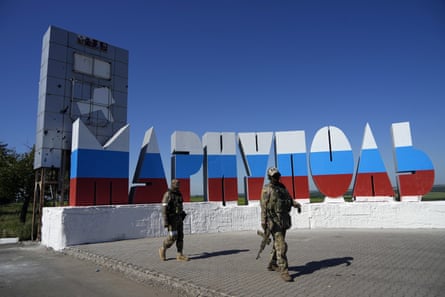 The Russian authorities started offering evacuations and David decided to take his chances. A young woman who he sat next to on the bus pretended to be his guardian as they went towards checkpoints and filtration. But in Russia, the woman said she could not take care of David. David was driven to a children's home.
David told the staff that he wanted to go back to Mariupol. He tried to call his mother and persuade her to come to collect him. But she refused.
During this time, David found solace in his music. He recorded two albums in the linen closet on a phone that his former youth group leaders in Mariupol sent him via a chain of Russian volunteers. He mixed traditional Ukrainian folk music and poetry with electronic music. On the description of the album uploaded online, David wrote: "Hopefully this will be enjoyed even by those who don't like [folk] music … Unfortunately I am currently in deportation [just like Taras]" – referring to Ukraine's national poet who was forced to live in Russia because of his Ukrainian nationalist teaching.
The children's home was a depressing place, said David. Meals, time outdoors and bedtimes were scheduled and it was difficult to be alone. At the local school, they put him back two years so that he could catch up on Russian history and other aspects of the Russian curriculum.
David was vocal about his pro-Ukrainian position and the invasion, much to the dislike of the adults around him. He was also bullied. One boy threatened to hit him, "I took his hand and put it to my face and said: 'Well go on then.'"
In early October, David found out that he could be collected if his mother gave permission to a third party. "It was like a stone dropped," he said. The staff at the children's home said they had not offered him this option because David's mother was "indifferent towards him".
Through the same network of Russian volunteers who had delivered the phone, a plan was put together to extract David from Russia. A Russian volunteer, who is involved in a pro-Putin aid organisation as a cover for her dissident activities, was selected as David's pretend guardian. It still took weeks to persuade David's mother to go to the notary in Mariupol but eventually she did it.
"They found money for the notary, for everything. They brought me back [to Ukraine] completely for free," said David. The journey took under a week. At every stage, he was accompanied by a new set of volunteers, who he spent the night with before heading on the next leg of his journey the next day.
David is now living in a hostel in Kyiv, planning to record his third album under the stage name TRUFFIKSS, which he insists must be created using live musical instruments, not electronic.